Welcome!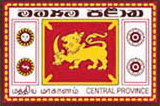 Thank you for visiting the official website of Ministry of Road Development, Transport, Power & Energy and Housing & Construction of Central Provincial Council, Sri Lanka.
The Provincial Council system was established in Sri Lanka in the year 1988 under the 13th Amendment to the Constitution of the Democratic Socialist Republic of Sri Lanka. Consequently, 5 ministries have been established in the province. The roles of the Ministries change from time to time and at present, the functions include Road Development, Transport, Power & Energy and Housing & Construction. The administrative area consists of three Administrative districts, namely Kandy , Matale and Nuwara Eliya.
---
Our Vision

A society empowered by the knowledge of Alternative Energy resources and shelter for all with the qualitative transportation and road network system to the central province, for successful future...
---
Our Mission

Management of resources in competence and effectively for establishment of a qualitative road network that operate with the community participation, fulfilling the transport requirement of public, Introducing sustainable energy to those without electricity facilities by national grid, Increasing the efficiency of energy consumption, Providing a ownership of a house with basic facilities for every person in the central province for fulfill the national emerging " Wonder of Asia"